https://www.bbc.com/news/uk-england-birmingham-46544456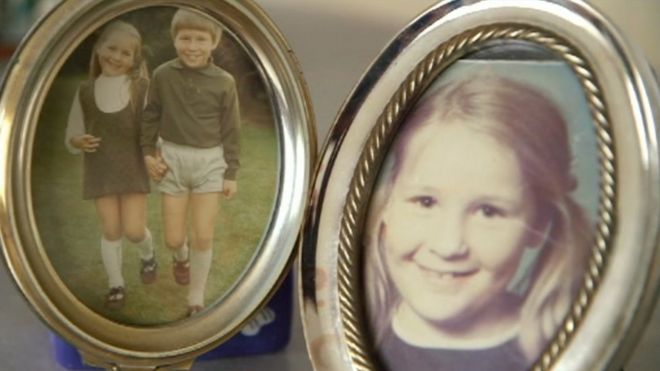 A new inquest into the unsolved murder of a girl found dead in a wood 43 years ago has been ordered by the high court.

Helen Bailey was found with her throat cut in August 1975. The eight-year-old disappeared while wearing blue clothes and was dubbed "Little Girl Blue".
Elokuussa vuonna 1975 ensin kotiinsa tulleen ja siellä leikeissä likaantuneet vaatteet vaihtanut ja itsensä pessyt 8-vuotias tyttö katosi ensin hetkeksi ja löytyi pian kuolleena läheisestä metsiköstä.
Hän oli pukeutunut sinisiin vaatteisiin pesun jälkeen. Syy tähän ei ole ilmennyt.
Näin jälkeenpäin näyttäisi siltä ,että hänen kurkkunsa olisi viilletty. Tapaus tuomaroitiin kuitenkin jonkinasteen onnettomuudeksi tai epäonniseksi pilaksi.
Nyt 43.vuoden jälkeen tapaus on avattu uudelleen. Yhtenä seikkana mahdolliset merkit kuristamisesta
On epäilty aiemmin pedofiilin kohtaamista ja siksi Helen olisi käynyt vaihtamassa vaatteet ?
Ehkä pedofiilin pyynnöstä ?
Suoranaista merkkiä seksuaalisesta väkivallasta ei kuitenkaan 70- luvulla oltu havaittu.
Omassa tekstissäni on myös lainauksia muistakin lähteistä kun linkin tektistä.
https://www.truecrimelibrary.com/crimea ... en-bailey/
After four hours out playing, eight-year-old Helen Bailey rushed home, changed her dirty clothes, washed herself and then went out again. She never returned. Some hours later on Monday, August 11th, 1975, her body was found on scrubland in the Great Barr area of Birmingham. She died from a single stab wound.

She had refused to say how she became dirty or why she was so keen to change her clothes. The police theory is that she might have struck up a "friendship" with a paedophile who sent her home to tidy herself up before returning to him. But there were no obvious signs of sexual assault. The Home Office recorded the murder as "motiveless."
Vaatteenvaihto / pedofiiliteoria.
https://www.birminghammail.co.uk/news/m ... 5-15543132
Linkissä mm. tapautumapaikasta.
https://www.google.com/maps/place/Booth ... -1.9195365
Helenin kotikatu , jonka lähistöltä ruumis löytyi.